Fust Charles Chambers
Website UX/UI & strategy, brand identity update, content development, communication strategy and services clarification for regional accounting and consulting firm.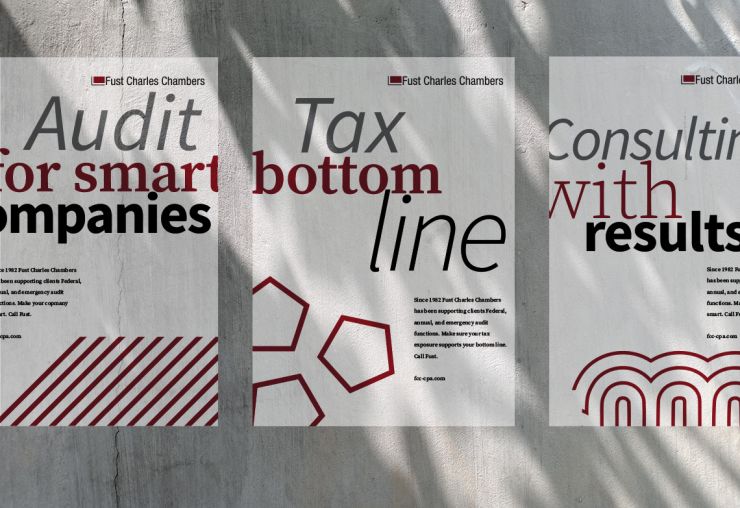 Overview
Fust Charles Chambers is a leading regional accounting services firm that helps companies maintain compliance while ensuring best practices for their clients. So how do you create additional impact for an already established entity with a 30+ year history without disrupting recognition?
In order to modernize Fust Charles Chambers' brand without compromising recognition value, it was essential to work together with the team in a highly collaborative partnership. First, we established a clear understanding of Fust Charles Chambers' near-term vision and long-term goals for the organization. Next, we identified the competitive marketplace as well as the target audience, creating new guidlines for updating the identity with a clarified presentation that serves as the basis for a refreshed identity program and website.
Website Strategy
The Fust Charles Chambers website was suffering from an aging site design and user experience structure that lacked hierarchy and disciplined organization. For any company, this is problematic for promoting clear communicaiton. After gaining a clear understanding of what Fust Charles Chambers does and where they want to be in 10 years, we prescribed a clear site architecture that is designed to grow with the company. We collaborated with the client's team to create a sitemap that provides a home for all content by adopting a classic idiom as our guiding principle: A place for everything, everything in its place.
During our discovery sessions, we learned that every client-facing function of the company could be placed into one of 3 "buckets" which represent their key business practices: Audit, Tax & Consulting. By establishing this new structure for the organization, all current business activities and future engagements for the firm now fit into one of these categories. Once this was established, we built the balance of the site architecture around these 3 practice areas.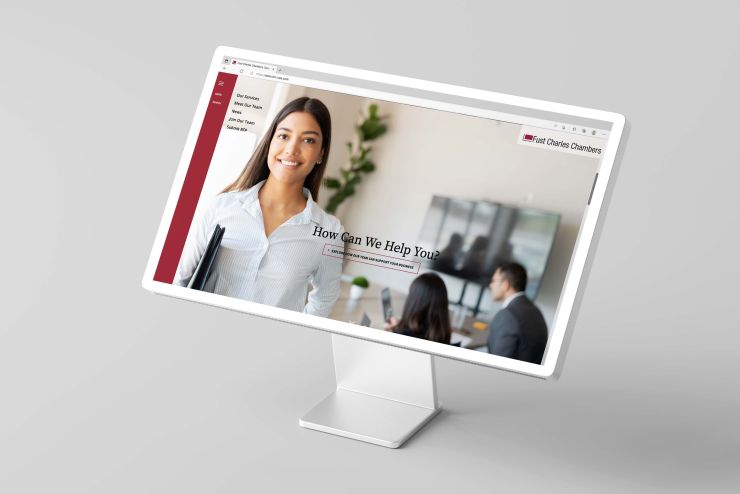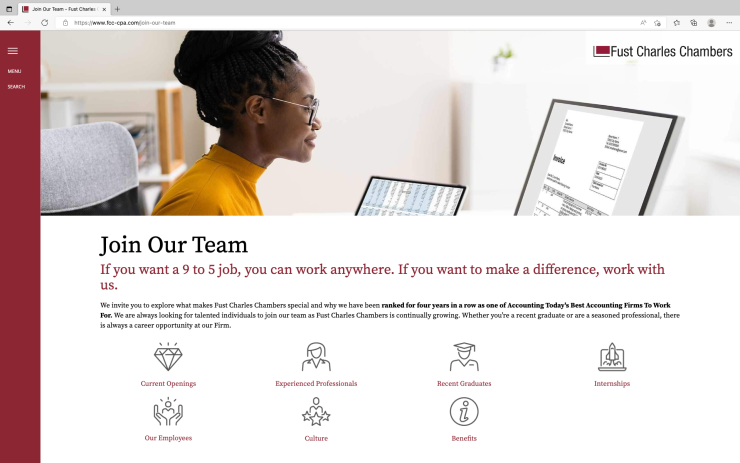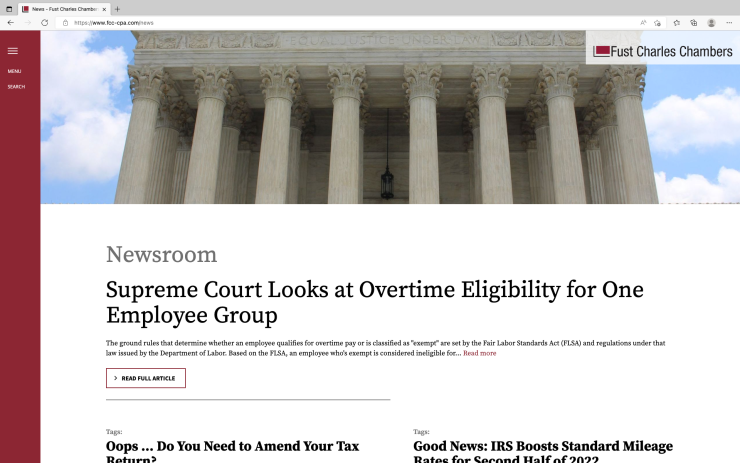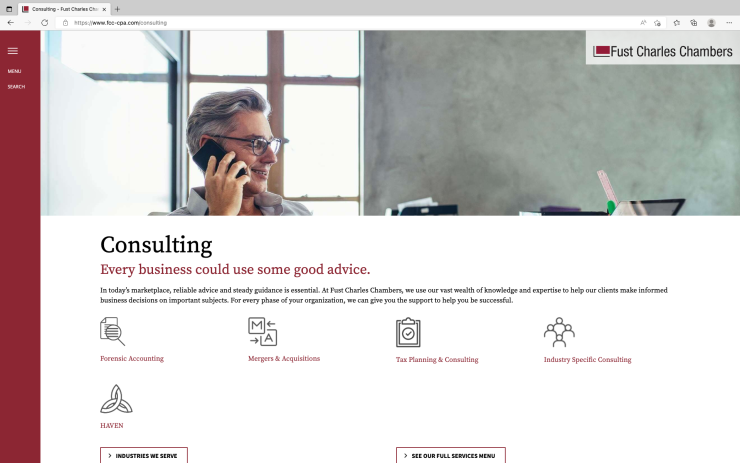 Services
Website UX/UI & Strategy

Brand Identity Update

Brand Positioning

Services Clarity

Content Development
Identity Update
In the refined trademark, the corporate name was reduced to the proper name of the organization. Leadership felt that the additional descriptor of "Certified Public Accountants" was limiting and did not accurately reflect the firm's full range of expertise, so it too was removed. The result is a simplified system that accommodates a horizontal and vertical orientation while introducing a clean, refreshed and modern trademark that is more flexible for digital and print applications.
Identity Before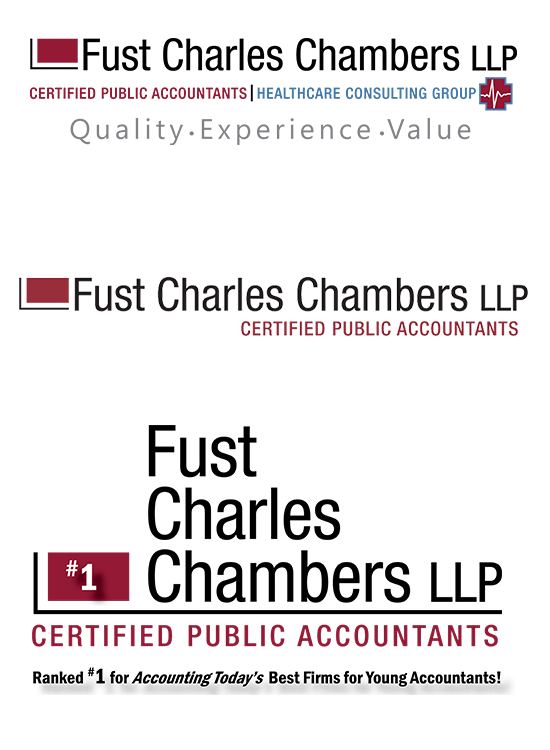 Identity After
Brand Clarification
One of the most significant elements that 76West brought to the collaboration with Fust Charles Chambers was the confidence for the firm to present themselves with a calm restraint. Much like the actor who doesn't give away everything on opening night, the new brand presentation shows a disciplined sophistication that supports the incredible expertise that the firm has in its staff and experience. The execution of the brand identity update positions the firm for growth in the 21st century, while at the same time honoring their established history.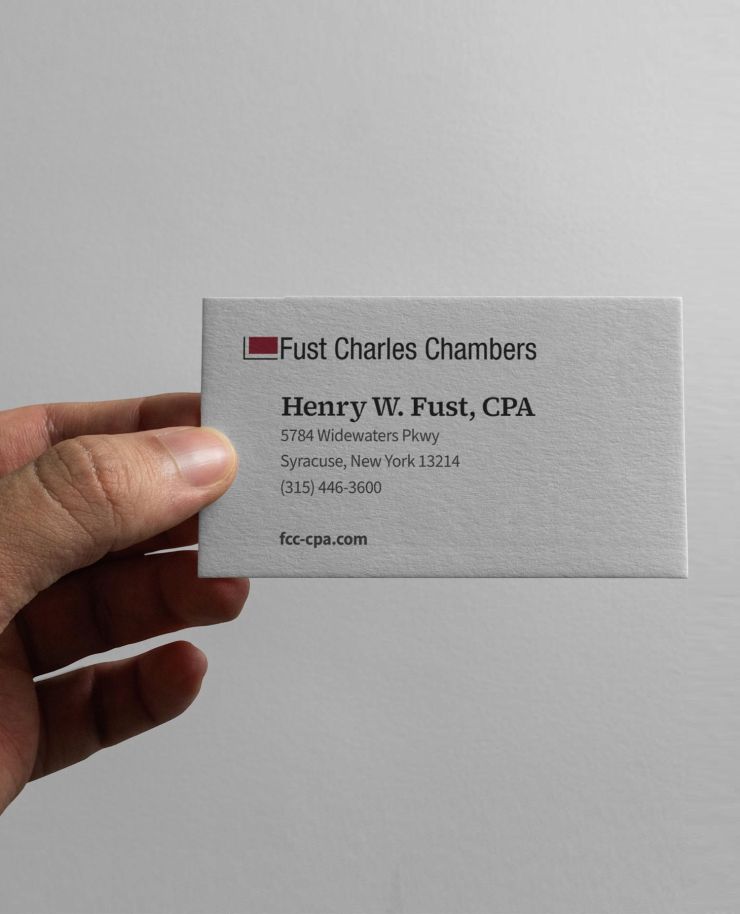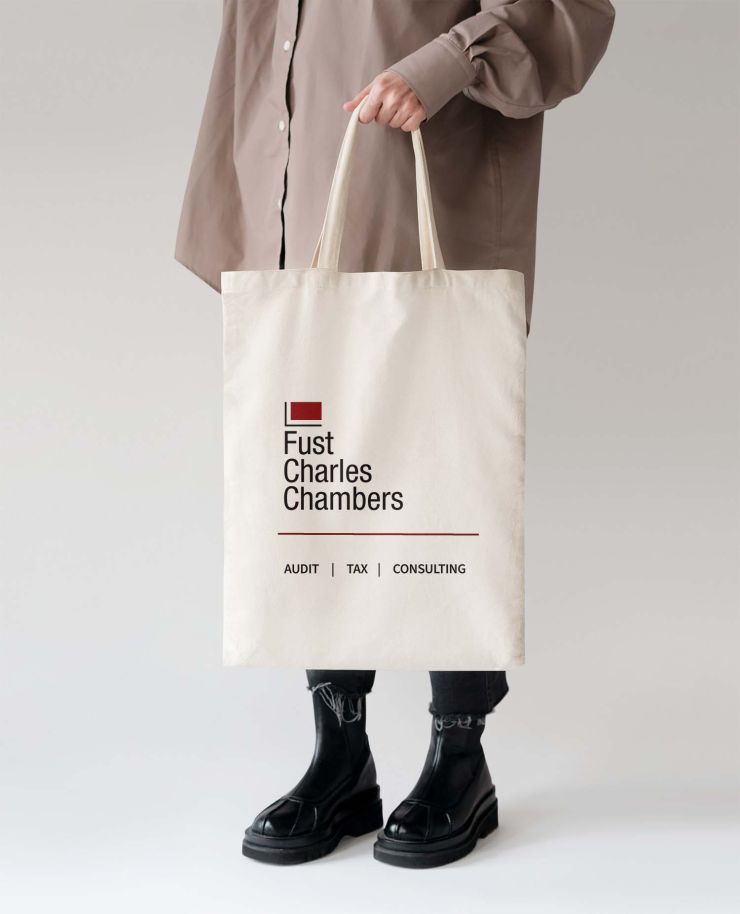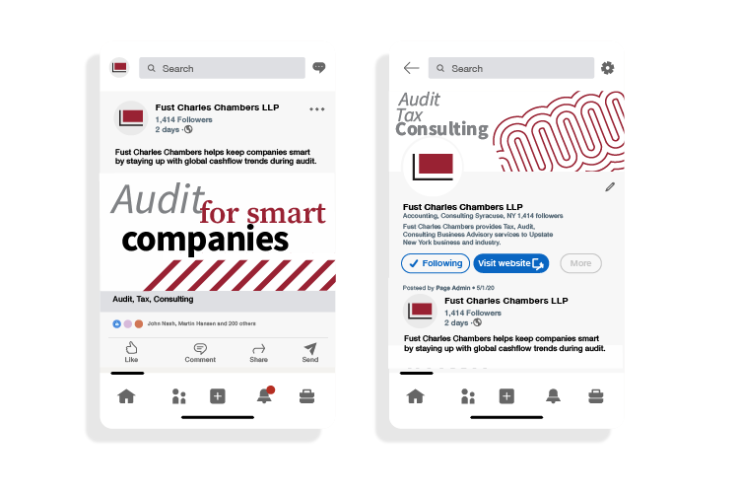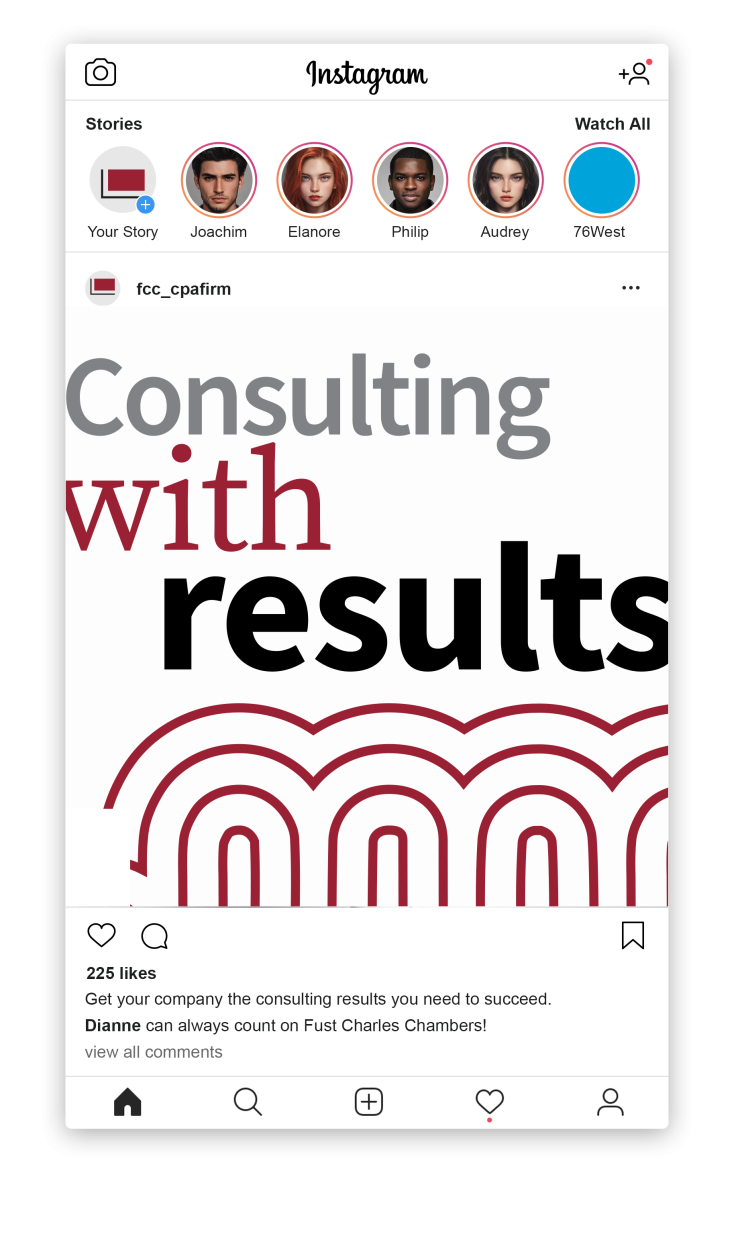 Outcomes
Fust Charles Chambers now has improved clarity across their 3 areas of expertise while having the ability to easily feature specific information on the website's homepage billboards. Included in the website is a much-needed area for the Human Resources department to attract new talent to the firm. The site's modular component provides the capability for 76West to create microsites for new-client onboarding in just five days — allowing the firm's sales teams to quickly secure more business than prior to the redesign. Visitors to the website have responded favorably to the new platform, indicating they have a better understanding of Fust Charles Chamber's service offerings, presenting opportunities for new business.
The website's transformation has given the in-house marketing department the tools and confidence to easily evolve and generate new content. At time of publishing case study the client team has grown the site to more than 300 pages and dozens of landing pages to support SEO programs.
Top