BrandOps™
We believe that a strong brand is critical for business success. When working with 76West, your insight and participation is an important component of the brand-building process. We work with our clients to understand their business goals, identify and research the competition, analyze customer satisfaction and determine growth opportunities.
We Work With You To:
1. Understand your business goals
2. Identify & research competition
3. Analyze customer satisfaction
4. Determine growth opportunities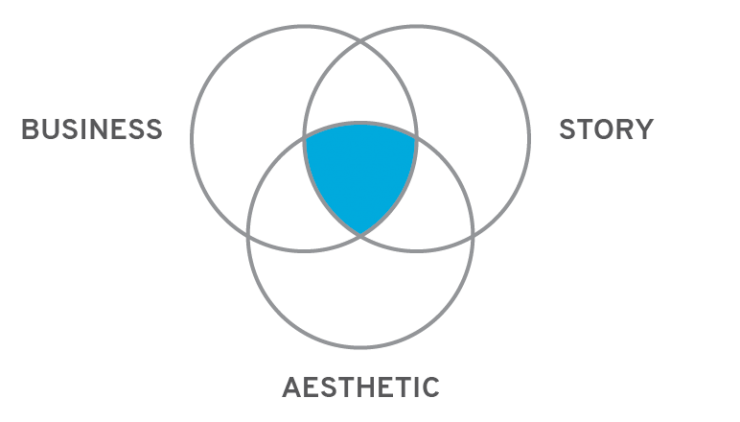 The balanced intersection of Business, Story and Aesthetic shape a brand and form the Unique Brand Proposition. The symbiotic relationship these 3 pillars share is essential for bringing your brand to life and forming the building blocks for the evolution of your brand.
We apply these 3 essential pillars of branding to everything we do.
76West BrandOps™ Services
We place the corporate brand at the center of all business operations. 76West BrandOps™ includes 3 tools for exploring the current state of your brand and identifies strategic opportunities for long-term business growth.

Brand Audit
Our brand audit enables us to identify strengths and weaknesses of your brand platform, while identifying opportunities for innovation and growth. If your profits are falling or sales are not performing a brand audit will help us provide insights into your brand's impact and performance in the marketplace and, most importantly, why it's not delivering.

Compass™
Compass is a facilitated collective exchange of ideas and thoughts in an open group session, conducted during a half-day series of questions with your company's leadership. It measures and guides process, while identifying future needs and opportunities. We can conduct a Compass in two modalities, in-person, or virtual depending on location and availability of participants.
Learn more about 76West Compass™ here.

76West's exclusive brand development and management tool is BrandGPS®. This bespoke 3-phase process systematically realizes the creation of the Unique Brand Proposition (UBP) for your organization. The UBP becomes the foundation for identifying untapped growth potential and developing outstanding and compelling communication strategies designed to increase value and promote long-term market share.
Learn more about BrandGPS® here. Whether you're a prospective client, potential partner or a fan of our work, stop by and say hello!
Top